Last night (which was still Monday, I would like to point out), we took a mini adventure to
Frankie's Tiki Room
in Las Vegas for Happy Hour. If you are looking for a fun time,
Off the Strip
this place is pretty hooty and fun.
As you can see from the drink menu, it is pretty legit. I had the Lava Letch, but although it's a funny name the Bearded Clam was pretty rockin' (hold inappropriate comments please) ;)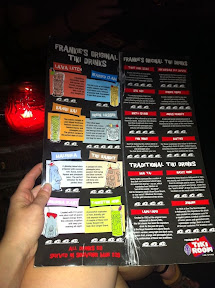 I will do a post later this week on some other places in Vegas, because in 2 and a half weeks here I am starting to feel like a local.