Our most lovely and gracious friends Mark and Sandra invited us along on their Labor Day weekend trip to Wimberley. After a minor pet mess situation in the car and Blair witch situation after midnight looking for the rental house wen had a most Fabulous and memorable weekend. We set out for breakfast to Kate's Place where we then stumbled upon
Market Days
... Everyone was so confused when we told them we weren't in town for that. But whatever, onto the wine tasting!!
Over the course of two days we ate at 2 BBQ restaurants, went to 7 wineries and bought lots of local food to bring home.
But lets get to the exciting part...
BEN
asked me to marry him!!! I said yes. :) we were at the 2nd winery on Saturday,
Driftwood
checking out the amazing view and jammin on some lovely viognese and mozzarella. As I commented how awesome the day was and beautiful the weather was I looked over to B pulling a ring out of his pocket, getting down on his knee and asking me to be his wife. After much shock and literally asking "is this a joke?!" 8,000 times, I said "of course" and started crying. Mark got it all on film. :)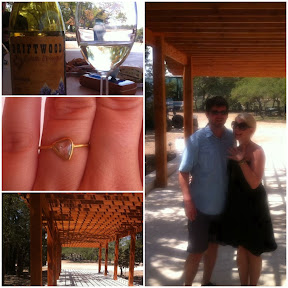 Here are the wineries we went to in order:
Wimberley Valley Wine
Driftwood
where we got engaged!!
Duchman Family Winery
Sunday:
Bella Vista Ranch
Bell Springs
our fave... And not on the map
Solara Estates
Dinner and tasting at Salt Lick
It was a great trip, thank you Mark & Sandra!! You guys are amazing and we are lucky to call you friends. And lovely serendipitous moment when our good friends Nico and Sarah #4square stalked us to join the party.... I love you guys for that.
Let the planning begin!!!!